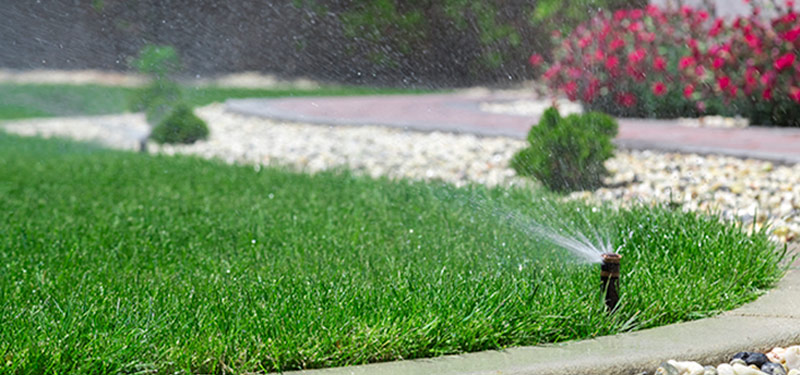 Welcome to Hancock Irrigation, a proud provider of commercial and residential irrigation services in Columbia, Illinois as well as surrounding areas in the St. Louis Metro East.
Our company offers comprehensive solutions to a variety of irrigation needs, including winterization, spring maintenance, drip irrigation, sprinkler system repair and full irrigation systems installation just to name a few.
There's something very special about irrigation as compared to other services. That's because if it's not done right – the result becomes apparent almost immediately. Lawn goes yellow, flowers wilt, and what should have been a blooming garden looks like it desperately needs a hug.
Our growing list of happy clients and a reputation for care and professionalism are there to testify that we are really good at what we do. The irrigation systems we install operate with clockwork precision and are always kept in their top condition by a dedicated crew of specialists.
Combining Tradition and Innovation
Our irrigation services in Columbia, Illinois, rely on good, old irrigation methods, while also introducing hi-tech, water-efficient machinery to better take care of your garden or back yard. This becomes very important in the hotter months of the year, where excess water usage will amount to pretty hefty bills. Saving money by installing a smart, timer-controlled sprinkler or drip irrigation system simply makes sense.
In addition to this, we have innovative insect misting systems available that will rid you from the necessity of bringing bug spray with you every time you go outside, or putting fly traps everywhere. Let's face it, those things don't look good and don't really work that well either. Flies, mosquitoes, wasps – all those unpleasant, unwelcome guests will be gone from your life, allowing you to host parties or just enjoy the weather in peace.
This is in fact our primary objective – your peace of mind. And we are happy to say we have gotten very good at providing just that to our valued customers over the years.
Transparent Pricing and Billing
When we sign a contract, you get a full breakdown of what's included and what the rate is for everything. There are never any hidden fees, no surprise costs, or anything of the sort. You get what you ordered, when you ordered it, not a moment later.
We serve residential and commercial clients, including schools, office buildings and other businesses. Whether you need to install an efficient sprinkler system in your back yard, or require our services for a company or business, we are here to provide it.
Every one of our customers without exception enjoys the same royal treatment, and gets to enjoy the same end result. That's because we are locally owned and family operated, which means our management is personally involved in every single project. We care about you. This is why we're known for being among the best at providing irrigation services in Columbia, Illinois.
If you'd like to find out more, or inquire about our prices, feel free to contact us today. We are here to help you create a greener, happier living.
Hired to winterize my home irrigation system. Fast phone contact to initial reply, Arrived on time and completed service in a timely manner. Right price, friendly service, and LOCAL. Highly recommended!

Requested information for winterizing my irrigation system. Contractor replied to my request in a timely fashion. Provided a reasonable price to complete project. Arrived on time and completed project exactly as discussed, no surprises. Contractor offered to do a call back to schedule the activation of the irrigation system, I accepted. I am very satisfied with the service I received. I recommend this company.

Todd and his staff go out of their way to make sure you are happy! They walked us through the whole process and made sure we got everything we wanted: The end result was perfect!

Todd is a good, honest, hard working young man.

A Class Act! I could easily tell by the initial professional approach of Hancock Irrigation Systems, all aspects of the job-in-hand would be well covered. This company showed skills and abilities beyond the norm. The amount of detail oriented attention and awareness of home owners property was refreshing to see. Thorough follow ups are also performed - Absolutely no need for personal reminders or date books. . . As a friendly hint to all in the market for irrigation systems - If you accept the "Fly By Night" crews trying to make a quick buck and save you money initially - You surely will regret the consequences. Do yourself a favor and have it done right by the Hancock Crew.  My hat's off to this company . . .

This company installed a full lawn sprinkler system:  Hancock Irrigation was outstanding.  Excellent product, installation time, instruction, and customer service. This was my second experience with Mr. Hancock and he validated why I chose to go back to him.  I am thoroughly satisfied with this experience, again!

They installed an irrigation system in out backyard.  There was some coordination with sod company and everything went smooth.  Todd always answers my phone calls and texts and I have never had an issue that he can't address.  He's no only professional but friendly and trustworthy.  Everything went better than expected.

Inspected, serviced and turned-on irrigation system.  Hancock does excellent work - responsive, punctual and affordable.

Todd Hancock who owns and runs Hancock Irrigation used to work for the landscape company that I used for landscape type work. So when he branched out with his own irrigation business, I followed him. He installed the system and if I have problems, a lot of times he comes out and looks at it without additional charge. If it is something pretty minor, he just comes and does it which I respect because he installed the system. So when there is a problem with the equipment, most of the time he comes out and takes care of it without an additional charge. Sometimes if there is part or something, he has to charge me for the part, but he is good about backing up his work. His price seems very reasonable to me.

If you need a sprinkler system give Todd a call. Quality work, you will not be disappointed.

Professional and Exceptional Service.

Mr Hancock was VERY PROFESSIONAL when he came to my home.

Todd and his brother are very friendly and nice gentleman. They did great, quick work. I'd certainly recommend their company for future projects.

I chose Hancock Irrigation because of his customer service. Todd had challenges to face with invisible fence but still had amazing service during the install. I will recommend them to anyone looking for irrigation service.

Installed new system at our summer house. Unbelievable service from all phases of installation to start up and shut down. This was my third system in three different states for for once I have had no problems! I highly recommend this company to anyone looking for a quality service after the install.

They're very reasonable and easy to schedule.  They're flexible and they do good work.  The price seems reasonable to me.

They are the only irrigation company I will use. Very kind and courteous. When I have needed emergency service, they have came out and fixed the issues the same day. They are very fair on pricing and do great work. Would highly recommend

Thanks for your help today. You guys did a great job!

Very responsive and professional.

Very nice, knowledgeable.  Prompt and efficient.  Will continue to use them in the future.

They arrived on time and were courteous when entering the home by taking off their shoes.

Fixed break in main line; located and spray painted main line and feeder pipes. Thanks Todd, Great Service!!

Todd - I was most impressed by your personal presentation...I'll be back in touch..thanks!!

I recently had an irrigation system put in by Hancock and the experience was above fantastic! Todd came out to give me a great bid and scheduled the work. They called me the week before work was to be done, they showed up when they were supposed to and completed the job on time. Due to a fence being installed right after their installation Todd made 3 extra trips out to make sure fence guys knew were his lines were put. Yes disaster happened! The fence guys cut the main irrigation line installing the fence post. Todd came out with his crew to repair the broken line so the fence guys could finish. I can't tell how happy I am in the entire process. I used other companies before and NEVER experienced the service Todd and his team has shown me. If you want a great system from a fantastic company call Todd Hancock!

They were prompt, knowledgeable and very accommodating.......

Great service and great price. I would highly recommend this company to any one.

Thank you for the wonderful service

Although last year was our first go with Hancock, we were very pleased with the professionalism of your company and intend to use you again to start and shut down our sprinkler system. We appreciate you maintaining your prices.

Hello Todd, thank you for sending your quote. We really appreciate you taking the time to explain our options. You were very informative. We will let you know when we are ready to get on your schedule.

Thanks for getting that done yesterday. I meant to say something but we were running late for the track meet. I was very impressed with how clean and neat your trailer and equipment were and I think it speaks to the kind of job you will do. I also sent a response to the invoice about moving the two heads in the front.

Very professional, keeps all appointments, shows up on time, and is very respectful of your home and property. Project went as planned and turned out great.

Thanks to you and your crew for a job well done.

Thanks for your quick service. We will use you for our spring/fall services or whenever we need to.

Thank you for an excellent job this morning. It has been a frustrating two weeks with the backyard project. Despite good work on the wall, the contractor has dealt us fits on all the side issues. I was quite surprised and relieved by your responsiveness in both coming out and in completing the work...and arrival was five minutes early both times. We really needed a victory on something this week and you gave it to us. The irrigation system is now in the best shape it has been since install. My wife and I have dealt with a lot of contractors over the years. Many are wonderful, many we will never call again. You have won our business in the future based on this week. Thanks again to you and your entire team.

Thank you for your prompt service, I'll be calling you in the spring too.

Thanks for taking such good care of our sprinkler system!

I just went to using this service, but so far so good. They are flexible in their scheduling and cheaper than my previous service.

I am very satisfied with your service and support.
Section 892.20(b) of the Illinois Lawn Irrigation Contractor and Lawn Sprinkler system Registration Code states Irrigation contractors shall provide proof that at least one irrigation employee has completed and passed an approved class in the design and installation of lawn sprinkler systems.  The State of Illinois will not issue a license without these continuing education requirements being met.
Please ensure that whoever you hire to perform any irrigation service has completed their required irrigation class and has an updated irrigation license for 2017.